"HostBill automates repetitive, routine tasks, that cost time and money"– Kris Pajak, Founder & CEO, HostBill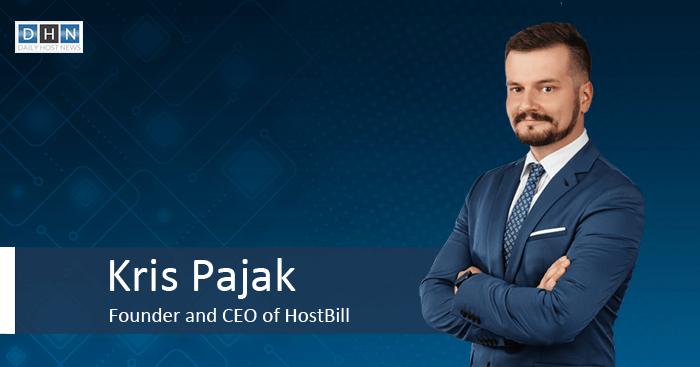 HostBill is a popular billing and automation software for the web hosting industry with thousands of clients (Hosting, Cloud/IaaS/VPS Solutions Providers, Domain name and SSL Resellers) all over the world.
This year in November, HostBill celebrates its 10 years anniversary. We interviewed Kris Pajak, HostBill CEO, and asked him about the changes in the web hosting industry in the past 10 years, how HostBill platform has evolved over the years and what are the plans of HostBill in 2020. Read on…
1. Let's begin with a brief introduction of yours and an overview of HostBill.
I'm Kris Pajak – founder and CEO of HostBill. HostBill is a powerful and flexible, all-in-one automation, billing, client management and support platform for the web hosting industry. Our software handles all aspects of running a successful online business, from client acquisition, through invoicing and payment collection, automated service provisioning and management, to customer service and support.
HostBill is mostly meant for Hosting, Cloud/IaaS/VPS Solutions Providers, Domain name and SSL Resellers. The company was founded in 2009 and this year we are celebrating 10 years in business.
2. What pain points can HostBill eliminate for web hosts and other service providers?
HostBill core feature is automation – with our software you can automate repetitive, routine tasks, that usually cost not only time but also money. Powerful automation that HostBill provides also has another advantage: it helps to eliminate human errors. And with HostBill, you can not only automate all of the billing operations but also service provisioning and management. With custom automation tasks, you can create your own automation rules and perform certain actions based on criteria that you specify.
Another thing that HostBill can help with is compliance. We provide our clients with the tools that help with compliance with various legal requirements, such as GDPR, PCI, Moss, EU billing and more, so our clients don't have to worry about looking for multiple solutions. It's all built into HostBill.
3. Does it also help cloud service providers (CSPs)? If yes, what cloud services can be billed using it?
In short: yes, HostBill is an all-embracing solution to cater to the needs of businesses with diversified product and services portfolio, including cloud service providers.
We provide a number of public cloud integrations for easier reselling of such services. Our integrations are also equipped with advanced billing features and multiple billing models, including metered billing and the tools to measure and control resource usage over time, which can be especially useful to CSPs.
4. Please share with our readers how HostBill has evolved over the years to meet the growing demands of its customers.
HostBill was created in 2009 and since the beginning our approach was "Customer knows best". When we released HostBill 1.0.0. it was capable of managing invoices, tickets, orders, domains and hosting accounts, but with functionalities much more limited than today.
Now HostBill has evolved into an extremely feature-rich software with a multitude of plugins and most of the features we developed since 2009 were requested by our clients.
End-user feedback is crucial to our success. We value and take into consideration every suggestion to constantly improve HostBill according to our customers' expectations. We grow as our clients grow and as they bring new products to market and face new challenges, we simply help them to find the solutions they need.
5. What was your motivation behind developing an innovative platform like HostBill?
HostBill was actually born from my and the former co-founder's experience – I used to work as a software developer in various hosting companies and I actually wanted to create a software that would help people like me. There is a saying in the IT: 'If you're doing something more than once = automate it'. Automation became my hobby as it was the ultimate problem-solver in many areas of my daily work. And HostBill is all about problem-solving.
Also, as we're using HostBill on daily basis ourselves, we wanted to "scratch our own itch" – create something that we know for sure is going to be useful as we will be using it on our own. For example, since 2013 we've decided to release every week, we've implemented the auto-update plugin to make updates a breeze for both ourselves and our customers.
6. What according to you will be the web hosting trends in 2020? Is HostBill ready to adapt to these trends?
I think in 2020 there will be a strong trend for professionalisation and value-added services as well as managed hosting. Shared hosting alone is barely a thing now, you need to offer hosting, domain, website builder, WordPress and professional services on top of that, at an affordable price. HostBill is ready for that as it connects all the necessary dots with its features and integrations.

Related read: What makes Plesk the preferred choice of WordPress developers?

7. That's great! How do you think HostBill has an edge over other billing and automation platforms in the market?
As I already mentioned, we develop based on our customer requests and as such we're the first with new features that clients really need. What also matters is how fast we react to the changes in the industry, and we release new features every week! That fast release cycle and regular updates helped us build a strong community behind our product.
Another advantage is the multitude of plugins and integrations developed in house, that enable our clients to jump into new markets and service offerings without the need for external integrators.
8. What were the main challenges that you faced while marketing HostBill when it was new in the market?
I think the biggest challenge was being compared to others who are longer on the market. As in any business being an underdog is hard at the beginning, but being small gave us something that bigger competitors were lacking – nimbleness.
9. How did you overcome these challenges?
We kept new releases coming, bringing new features that others did not have or did not listen to their customers to implement.
10. Tell us about the main integrations that your platform provides.
It's hard to pick one as we integrate every major hosting-related control panels, popular payment gateways and domain registrars. We have hundreds of integrations available in our marketplace and in 2019 alone we've released nearly 50 new integrations! Our integrations allow to sell and automate Cloud, VPS Hosting, Shared Hosting, DNS Services, Email Services, Backup and Cloud Sharing solutions, Game and Voice Servers, SSL services, VPN service, website builders, Licenses and much more.
11. What's in the roadmap 2020 for HostBill?
In 2020, we're going to focus on new, more robust and transparent billing engine to give admin better control of recurring service prices. We're also planning to release a refreshed client portal and we're also working on improved domain and DNS management features. Besides, we want to keep on releasing new HostBill versions every week, with new features and integrations our clients are looking for.