TechStars Graduate DigitalOcean Switches To SSD For Its $5 Per Month VPS To Take On Linode And Rackspace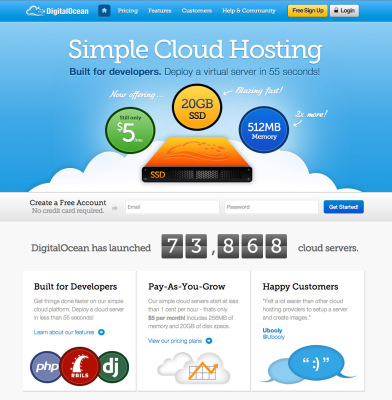 DigitalOcean is a cloud hosting solution for small developers, looking for a cheap virtual private server to experiment, host web applications with low memory needs and run some cron jobs. While Linode and Rackspace provide cheap servers starting at $20 a month, DigitalOcean has two key advantages — it starts at $5 a month for a comparable offering, and it now uses SSD.
For $5, you get 20GB of SSD, 512MB of RAM and 1 core. Many other configurations exist. For example, for $20, you get 40GB of SSD, 2GB of RAM and 2 cores. DigitalOcean provides two separate node locations for now, in New Jersey and Amsterdam. Comparatively, Linode provides six different locations.
"Linode is a great competitor, they offer reliable Linux virtual servers and have been around for a long time," said Mitch Wainer II, marketing and design guru at DigitalOcean. "But we are all about the user experience. Simple cloud hosting is our main driver and everything we develop supports that position," he continued.
Wainer is also the one who did 100 push ups in front of our TCTV camera during New York Tech Day, in order to be featured on TechCrunch.
After registering with an email and password, the company will set up a server in 55 seconds. Tutorials and other educating features will help you get started if you don't have a lot of experience in system administration.
All current customers can now migrate to the new offering with a single click in the admin panel. After graduating from TechStars Boulder and receiving funding from the TechStars Star Power Fund, DigitalOcean's five employees relocated to New York.
While DigitalOcean is not a threat to big cloud hosting providers like Amazon Elastic Cloud Compute and Google App Engine, DigitalOcean targets small developers and it's working quite well. Netflix or Reddit will keep using Amazon EC2, but DigitalOcean boasts more than 76,000 servers right now. Nothing to be ashamed of.